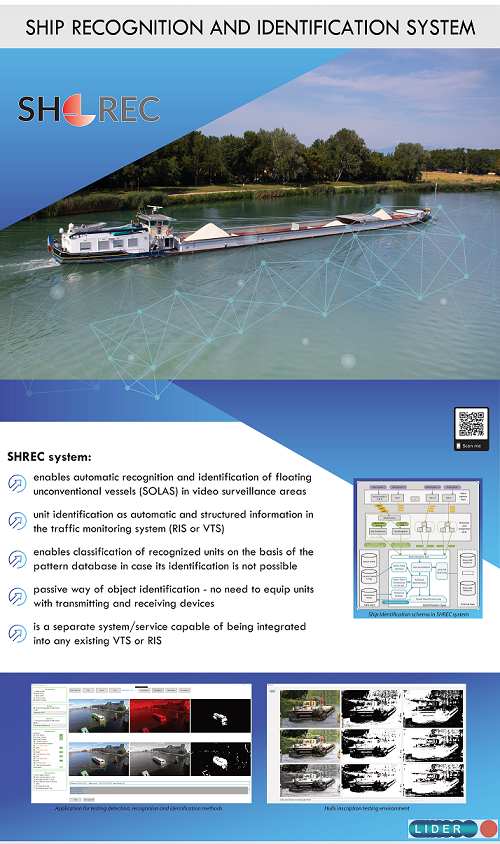 "Automatic recognition and identification system for ships in video survelience areas"
Under the LIDER programme financed by the National Centre for Research and Development in Marine Technology, the SHREC automatic ship identification system is being developed. Vessel traffic monitoring is a key issue for the safety of shipping, especially in restricted areas. The objective of this research and development project is to develop a prototype for an automatic recognition and identification system for unconventional craft on the basis of images and video streams from cameras forming part of marine information systems installed in special attention areas. Current AIS systems, both in maritime and inland navigation, require the purchase and installation of expensive transmitting and receiving equipment on board vessels and do not cover small commercial or recreational vessels, e.g. yachts, motorboats or research vessels. These units may pose a potential navigational or even terrorist threat, be of interest to customs or simply create obstacles to traffic in a restricted area.
The SHREC system will allow for automation of the process of unit recognition, identification of these units as automatic and structured information in the target system and its transmission to other systems, e. g. for the purpose of alerting services about the threat. In addition, the system will ensure that a recognised unit can be classified on the basis of a pattern database in case it cannot be identified.
The main tasks of the project are:
analysis of current standards, norms and legislative issues concerning the labelling of vessels, technological capabilities of monitoring systems and navigation information systems;
developing a method for automatic recognition of ships from digital images using the latest methods of machine vision and artificial intelligence;
design and construction of a demonstration system with architectural architecture of contemporary shipping business systems such as river RIS or maritime VTS;
construction of a research platform and verification of the system's operation both in laboratory and real-world conditions.
Potential recipients of the project results will be the administrators of river and maritime information systems, whose main task is to ensure the safety of navigation in the area under their jurisdiction.
Scientific publications related to SHREC
Address
4/6 Roszczynialskiego St.
81-521 Gdynia
13/5 Niemena St.
81-603 Gdynia
37/5 Klonowica St.
71-248 Szczecin