HYPACK 2022 New software products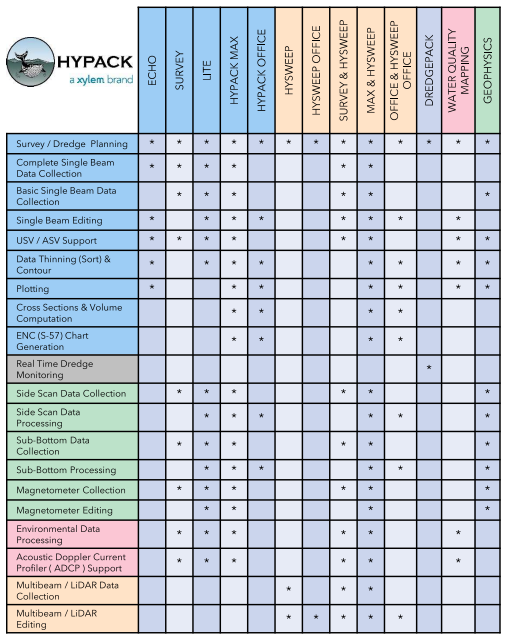 2022 is full of news for HYPACK. As many as 3 new software products have appeared (HYPACK® ECHO, HYPACK® WATER QUALITY MAPPING, HYPACK® GEOPHYSICS), therefore their total number is currently 13.
HYPACK® ECHO
Basic, affordable software package dedicated to bathymetric and hydrographic measurements with the use of Single Beam Echosounder. ECHO is specially designed to handle smaller hydrographic or bathymetric measurements, and also includes RTK GPS support. The software's Single Beam Editor tool generates DXF contours and reduces the amount of data.
HYPACK® WATER QUALITY MAPPING
Software enabling the collection and processing of environmental data. Includes support for ADCP and basic bathymetry.
HYPACK® GEOPHYSICS
Software that connects the tools required to conduct marine geophysical surveys. It has a centralized, easy to use interface. The software allows you to carry out works with the use of side sonar, magnetometer and sub-bottom. It helps locate targets and allows real-time recording with tessellation of sonar data and/or post-processing with over 30 device interfaces.