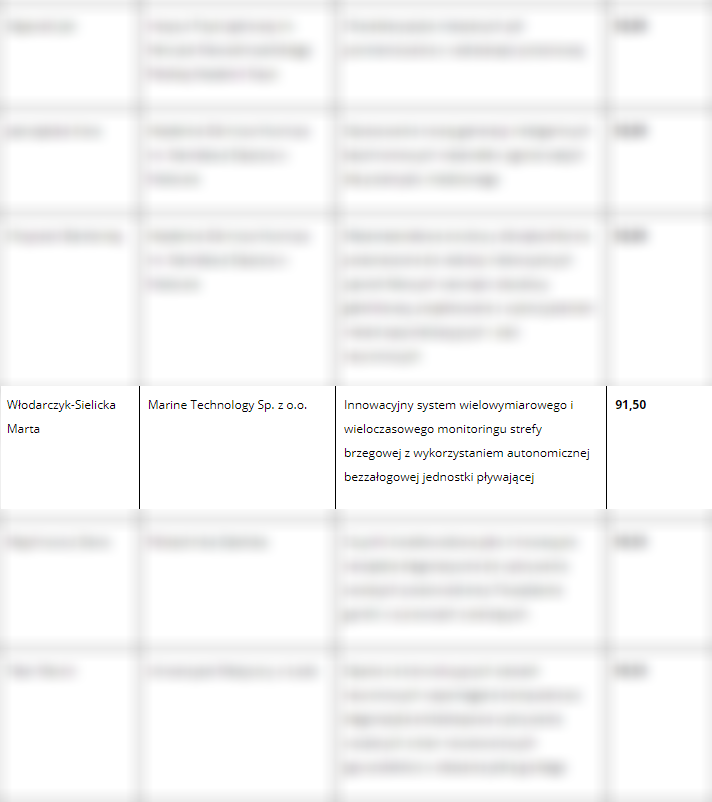 We are proud to announce that Marine Technology has been awarded funding in connection with the implementation of the project:
"Innovative multidimensional and multitemporal coastal zone monitoring system using an autonomous unmanned vessel"
within the LIDER program.
Our new LIDER is PhD Marta Włodarczyk-Sielicka. Ms. Marta Włodarczyk-Sielicka received her doctoral degree in 2018, and the title of her doctoral dissertation was "Method of geodata reduction in the aspect of building a bathymetric map of the reservoir". Ms. Marta's field is geoinformatics, and the main subject of research is the processing of spatial data and their comprehensive analysis. Marta is also involved in modeling bathymetric geodata, using artificial intelligence methods for their processing and the classification of raster images.
At the same time we are pleased to inform that PhD Marta Włodarczyk-Sielicka is already the fourth LIDER. Previous winners of the program were PhD Witold Kazimierski, PhD Natalia Wawrzyniak and PhD Mariusz Specht, which makes Marine Technology the only company in Poland with so many triumphs.
Congratulations!